A well equipped and rich library is the soul of a good institution. With this dictum in mind the college has arranged for the rich and well equipped library with all modern facilities. There are 19200 books on Education and other subjects on the shelves of the library. Library has two reading rooms which are spacious and provide ample material for extra reading. The library subscribes 42 journals on Education, 16 magazines and 12 News papers in Hindi and English.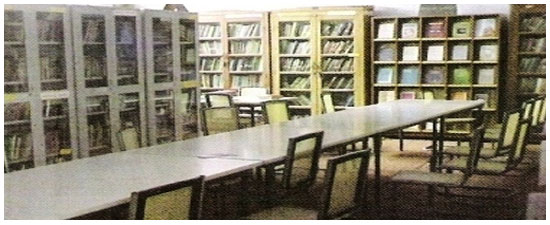 Reference section is very rich. It has latest Encyclopedias, Dictionaries, Survey both Research and Educational, Commission and Committee reports and foreign publications. Reference section of the library caters to the needs of brilliant students and teachers as it give them sufficient intellectual stimuli. This year we have added many indexing and abstracting sources. Our well furnished library has adequate number of charts, maps, models, globes and rolling boards. We have a number of audio, video cassettes and DVDs. Our library is a computerized library and has up to date catalogue about the holding of the library.
This year we have spent Rs. 75000/- on purchase of books. We give 7 books to B.Ed. students & 6 books to M.Ed. students for a year and in addition to that 2 books for fifteen days.
Under the able and efficient leadership of our librarian Mrs. Sunita Sharma, the library is engaged in the noble task of disseminating knowledge and keeping the students well informed and up to date with the latest books in their field of study. Our library staff has always tried to make the library user's friendly and it has been their constant endeavor to make available to the students the books they require.